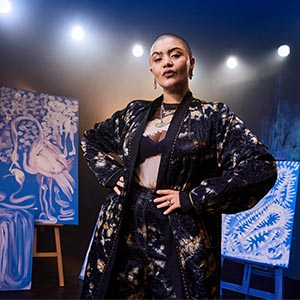 "A modern-day cave painter, driven to bring a contemporary expression of her heritage to the world."
Born in Cape town in 1987, Lady Skollie holds a certificate in Business Acumen of Artists and Bachelor of Arts in History of Art and Dutch Literature from the University of Cape Town. Her vibrant, often controversial work has been exhibited both locally and internationally, her solo exhibitions having garnered her recognition as well as a residency abroad.
Resoundingly San, she uses ink, watercolour and crayon to defy taboos and talk openly about issues of sex, pleasure, consent, human connection, violence and abuse. Her work is simultaneously bold and vulnerable, expressing the joy and darkness of the erotic and the duality of human experience.
Lady Skollie has been named in OkayAfrica's 100 Women, an annual list that honours women across 10 different fields for their contribution, achievements and influence.
She was born Laura Windvogel-Molifi, but this artist has achieved renown through the persona of LADY SKOLLIE – a pseudonym she explains as follows:
I want to be a mouthpiece. I'm that dirty auntie skollie who says what you've been thinking but never admitted to ... coaxing things out of you with a bright and sunny disposition. Humour is a vehicle for social change.
There is thus a committed activism underlying her treatment of a range of subjects – in particular, the "forbidden fruit" at the intersection of lust, greed and power, and the deployment of sex as a weapon. Linked to this is her protest against gender-based violence, expressed in images that depict women as shackled, yearning to be free.
She graduated with a degree in art history from the University of Cape Town, and Lady Skollie's earlier work also engaged in the subversion and appropriation of the European / Western arts canon. She remains playfully resistant to the art establishment, describing herself as "someone who never fit in" and "an art school dropout" when she was younger.
There is an implicit critique here of the whiteness of the art world – skollie, she suggests, is a word that has been used "to describe a person of colour in a place where they are unwanted by its white inhabitants". Lady Skollie has also explored histories of mistreatment and misrepresentation of coloured communities in South Africa.
She has had solo exhibitions at leading local galleries like Everard Read and has enjoyed residencies at institutions ranging from the Bag Factory in Johannesburg to Eastside Projects in Birmingham (UK). She continued to design 1million units of a R5 coin for South Africa depicting the long serpentine lines of the first democratic voting lines in 1994. Most recently she has been seen in a different role – as interviewer with her fellow artists for DW television show Afrimaxx