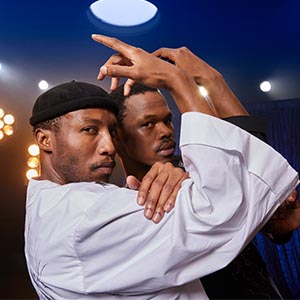 Billy Langa and Mahlatsi Mokgonyana
"Bayahlanganisa! They bring their greatness! Over, and over, and over again."
An inseparable theatre-making partnerships, Mokgonyana and Langa became the Theatre Duo when they met as students during their days studying at The Market Theatre Laboratory. Since then, their creativity, talent and passion has brought them together and take them places as a unit.
Their work explores the relationship between the body and voice, its truth and the indelible impact it has on its audiences. The result is storytelling that is well-crafted, edgy and grounding-breaking.
In 2018, the duo was invited to publish their critically acclaimed award-winning poetry in a performance theatre production, Tswalo. And in 2019, the same book was republished to form part of the curriculum at Rhodes University. Their inherent ability to transform and evolve their art-form has led them to tell stories through various mediums such as Cassette, digital audiobook and fashionable merchandise.
They officially became "Theatre Duo" some 7 years ago, but Billy Langa and Mahlatsi Mokgonyana have been co-creators since they met at the Market Theatre Laboratory.
Their landmark collaboration is Tswalo, with Langa as writer-performer and Mokgonyana as director-dramaturg. Among other accolades, the play won a Cape Town Fringe for Best
Directing and Performance, Standard Bank Ovation Award at the National Arts Festival in 2018 and a Naledi Theatre Award in 2020. It has toured widely in South Africa and Europe, and the text of this "epic performance poem", in English and Sepedi, has been published in two editions (by Junkets Press and iwalewabooks)
Prior to this, however, Langa and Mokgonyana had already produced critically acclaimed works like Just Antigone (2016), a version of Sophocles' ancient tragedy. Theatre Duo is known for the creative adaptation and appropriation of canonical plays, and for mentoring young actors who are launching their professional careers; following a similar model, they co-directed the Kwasha! Theatre Company in a celebrated production of Eugene Ionesco's Rhinocerous.
What all these pieces have in common is an exquisite weaving-together of the physical and verbal elements of theatre practice. The intricate combination of movement and poetry that has become part of Theatre Duo's signature style also invites audiences into the process, encouraging participation in a shared project of storytelling, listening and witnessing.
Commenting on the alchemy of their partnership, Langa and Mokgonyana offer this insight into the collaborative approach:
Collaborating is about co-elaborating ... you work to further clarify ideas and processes. We also find value in the concept of duality – left and right will always balance. We don't remain in our own spaces; what would be the point? Resistance to innovation is not something we subscribe to – if you are resistant, your work becomes monotonous.