Standard Bank Puts a Priceless Original in Your Newspaper
One lucky @SundayTimesZA reader will become the next great collector of art. Get The @SundayTimesZA on 22 May to stand a chance. #ArtSiphakathiInside #ItCanBe
For over forty years, Standard Bank has looked for new ways to bring great art to South Africans and now in 2022, we introduce one of our most exciting art experiences to date. The opportunity to find a priceless original by Blessing Ngobeni between the pages of The Sunday Times.
In the midst of the printer's busiest run of the week, we're stopping the presses. Blessing will have just enough time to select a newspaper and complete his artwork before the print run begins again.
170 000 copies, but only one will be a priceless original. The Sunday Times, 22 May 2022.

View the priceless original artwork
Get a sneak peak of the artwork one lucky reader found in their Sunday Times.
Learn more about Blessing Ngobeni
The 2020 Standard Bank Young Artist for Art, Blessing Ngobeni, is proof that above all else, innovation and perseverance will see you come out on top, no matter your background. Born in Tzaneen, Limpopo, Ngobeni lived through a difficult childhood and subsequently ran away to Johannesburg at the age of 10. As a teenager, he became involved in petty crime and was arrested. It was during his time in jail that Ngobeni engaged with art through the Tsoga (Wake Up) Arts Projectand decided to become an artist.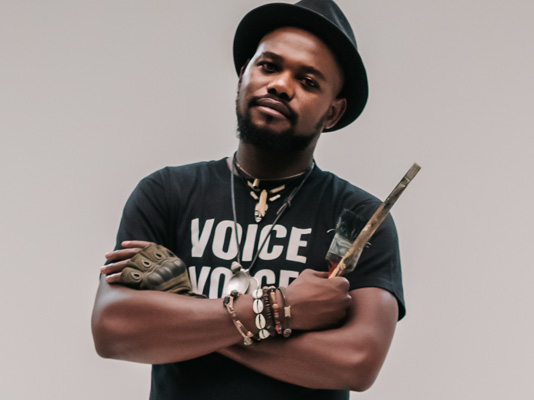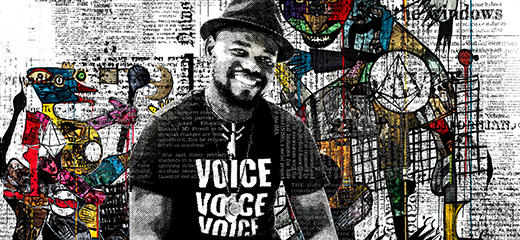 Blessing Ngobeni 2021 exhibition
Titled, Chaotic Pleasure, the much-anticipated body of work was exhibited as a virtual exhibtion on 25 June – 5 July. Comprising new paintings and collages on canvas, Chaotic Pleasure serves as both an observation and a form of confronting complex issues of power and abuse. The paradoxical title of Ngobeni's exhibition represents a quintessential feature of the artist's work – his ability to harness and manipulate seemingly incongruous words in order to intrigue, challenge, and inspire the viewer.